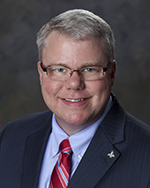 Clay Roberts
Senior Vice President & Trust Manager
Regions Trust
LT Class of 2003
Clay Roberts is a prime model of an LT grad willing to step up and take responsibility for the well-being of our community and those who live here.
Among other leadership roles, Clay currently serves as President of the Board of Directors of Opportunities, Inc., is a long serving member of the Texarkana Area Community Foundation, and is active with B.S.A. Troop 16.
Clay is also a valued member of Leadership Texarkana for his leadership in ensuring the successful completion and stewardship of the beautiful Heritage Gateway and Fountain on the north side of the Post Office, marking entry into our downtown Arts and Historic District. The endeavor was begun as the project of the LT Class of 2003, involving funds and community support exceeding $100,000, and taking 13 years to complete.
Clay currently serves as President-Elect of the LT Board of Directors, all of whom applaud Clay's commitment to this beautiful project that is an authentic asset to our community.
Clay Robert is a Graduate of Baylor University (1987-BBA) and the University of Arkansas (1992-MSA). He worked for PricewaterhouseCoopers in Tulsa, Oklahoma before returning home to join Regions Bank in 2001. He is married to Kimberly and has three sons, Matthew, Michael and Christopher.
Clay is a member of Sacred Heart Catholic Church. Clay also serves on the Board of Trustees for the Texarkana, Texas Firefighter's Pension and is a Member of Wilbur Smith Rotary Club.
Clay enjoys golfing and camping.
Share this post: