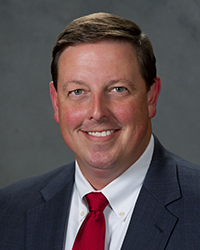 Scott Norton
Executive Director/Chief Executive Officer
TexAmericas Center
LT Class of 2004
"Leadership is getting involved and getting your hands dirty. Anyone can stand to the side and comment on what other are doing, but being a leader is being a 'doer' and making a difference in an area where you have a passion. No matter the topic of your passion, whether it be in faith, children, community events, cancer research, or anything else, you must be involved if it is truly a passion. Otherwise, in my opinion, it's only something of interest and not a passion. Even if you can't physically get involved, you can get involved financially or in a supportive role. Servant leadership is a powerful thing."
Scott Norton is the Executive Director/Chief Executive Officer of TexAmericas Center which has overall responsibility for the economic redevelopment of over 12,000 acre industrial complex in the heart of Bowie County, TX (parts of the former Lone Star Army Ammunition Plant and Red River Army Depot). TexAmericas Center is home to over two dozen commercial tenants and land owners as well as components of Red River Army Depot mission. The complex is a mixed use development including residential, golf course, commercial and industrial development. TexAmericas Center has responsibility for the water, sewer and industrial wastewater treatment systems that serve a 52 square mile area and all of the Red River Army Depot and TexAmericas Center property.
Leadership Texarkana had the opportunity to ask Scott a few questions about his thoughts on leadership and Texarkana. Here is what he had to say:
What have you learned most about making a difference in Texarkana (or about your opportunity for community leadership) from being a part of Leadership Texarkana?
As a member of the LT Class of 2004, one of the biggest lessons I learned was to find something you are passionate about and make a difference with that passion. My passion is making a better future for this region which is why shortly after graduating from LT I served with other community leaders to create the PGISD Education Foundation. Then, I served on the City Council of Texarkana, TX for three years. Currently I volunteer on the CHRISTUS St. Michael Regional Quality Committee and serve as a board member with Junior Achievement of Texarkana, Red River Fellowship of Christian Athletes and the Ark-Tex Council of Governments. Every day I work to advance the environmental cleanup activity on the former Lone Star Army Ammunition Plant and work with our regional partners to successfully recruiting businesses to this area that pay good wages that will allow employees to be self-sufficient and raise a family.
For what community organization or issue or opportunity do you have a passion and invest your time, talent or money?
My passion is a stronger future for this region which is why I volunteer with Junior Achievement of Texarkana, faithfully tithe, and am actively working to support the regions desire to create a Regional Economic Development Organization that will help us "win" more in economic development throughout this region.
If you had one wish and could make a difference of significance in Texarkana (your small corner) what would you do with that one wish and why?
My one wish would be for everyone to utilize their passion to create a bright future for this region and to work together to make that happen. Some have a passion in improving downtown Texarkana, some in advancing educational opportunities for children and adults, some in finding a cure for cancer and supporting cancer patients and their families, some in working with the elderly to keep them active and healthy, etc. No matter your area of passion, if we all worked with a sense of unity to make each of these areas better, then collectively we would have a better tomorrow. One of the challenges of bringing people together is the diversity of ideas on how to get things done, but I believe the diversity in ideas will, in the end, lead to greater successes and opportunities for the future. The key is to work in unity with others to advance your area of passion.
What do many people not know about you that you would to share with us? What are some of your passions and hobbies?
A few things that some may not know about me is that I have a Master's of Science in Business Administration from TAMU-T, a Bachelor's degree in Mathematics from Texas Tech University, that upon leaving Texas Tech I lived in the San Francisco Bay area for about 18 months, then moved to the small town of Woodville, TX while I coached and taught math at Colmesneil High School for a year, then moved to Houston for about 6 months before returning to Texarkana in November 1998.

As far as hobbies, I enjoy spending time with my kiddos, watching sports and playing golf. As a golf fan, I had the opportunity to watch a practice round for The Masters at Augusta National in 2009, I visited Pebble Beach when I lived in California (did not play), and played a round of golf at the Old Course at St. Andrews Links with my son on my daughter's birthday (had to include both kiddos in this sentence!).

Also, I enjoy traveling and seeing new things. I also really enjoy getting in my truck and just driving around the region to see what is going on in different areas.
What do you most love to do in Texarkana?
One of the things I most enjoy about Texarkana is the opportunities to be involved. No matter your interest or passion, you can find an organization or event to be involved. With all the different churches, fundraisers, nonprofits, events, etc., there is always something you can support with your time, talent or money. Having the opportunity to improve the quality of life of people around you and for the future of this region is something I hope everyone has an interest in doing in their own, unique way.
What do you most love about Texarkana, in general?
Given I was born and raised in Texarkana, I love that most of my family lives here and I have been able to raise my kids around their grandparents, aunts, uncles, and cousins. Having that sense of family from a young age is something that I am glad my kids have experienced.
Scott served three years as an elected member of the Texarkana, TX City Council, was Founding President of the Pleasant Grove ISD Education Foundation, and currently serves as a member of the CHRISTUS St. Michael Regional Quality Committee, a Board Member for Junior Achievement of Texarkana, the Ark-Tex Council of Governments and the Red River Fellowship of Christian Athletes.
Prior to working at TexAmericas Center, Scott's career included a wide range activities. He was General Manager of Aloha Aire, a local HVAC company where he was brought in to create and implement a budget and do long-term strategic planning for the organization. He served on the administration at Texarkana College, where he served in the roles of Director of Business Affairs and Director of Workforce Development, where he worked with local business and industry to enhance the skill set of employees and wrote and managed grants for needed employee training. As Regional Operations Manager for Walsh Healthcare Solutions Norton had distribution facilities in four states. He was also over warehouse operations as Supervisor for a startup for the online pharmaceutical distributor drugstore.com.
Scott Norton earned a Master of Science in Business Administration from Texas A&M-Texarkana and a Bachelor of Art in Mathematics from Texas Tech University. Scott has a son, Ray, and a daughter, Alex. In his spare time he enjoys life with his family and playing golf.
Share this post: