T-Town Top 10: Weeks of Nov. 20-Dec. 3
T-TOWN TOP TEN (A 2-Week Holiday Edition)
Things to do in

Texarkana Nov. 20-Dec. 3, 2017
CELEBRATE A BLESSED THANKSGIVING!
1. TONIGHT: Rudolph the Red Nosed Reindeer at the Perot Theatre. 7:30 p.m. The beloved TV classic is off the screen and onto the stage this holiday season. Based on the animated television special "Rudolph the Red-Nosed Reindeer." featuring favorites including Santa and Mrs. Claus, Hermey the Elf, Bumble the Abominable Snow Monster, Clarice, Yukon Cornelius and, of course, Rudolph. A wonderful holiday tradition that speaks to the misfit in all of us. Reserve your tickets.
2. Scott Joplin Documented and Previewed.Friday, Nov. 24 at 7 p.m. in the Old Town Saloon on the top floor of the Lindsey Railroad Museum on Broad, and on Saturday, Nov. 25 at 1 p.m. at TMS's Museum of Regional History (MORH). A video created as part of the centennial celebration of our region's ragtime giant. For more info: 903.490.5471.

3. Live Music
Pre-Thanksgiving Party w/Vernon Hinesley & The Misfits at Fat Jack's Oyster Bar, Nov 22. Learn more.
Crooked Halo at Scotties Grill, Nov. 25. Learn more.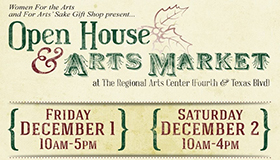 4. Open House & Arts Market at Regional Arts Center. Friday-Saturday, Dec. 1-2. Featuring local and regional artists! An opportunity to purchase unique, handmade gifts just in time for the holidays! Learn more.
5. While you're in the RAC don't miss:
56th Young Arkansas Artists Exhibition. Third Floor of the Regional Arts Center - as it travels the state for all to enjoy! Through Dec 8. Learn more.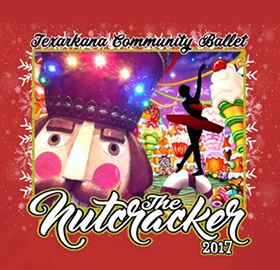 6. The Nutcracker presented by the Texarkana Community Ballet. Dec. 1-3 • Perot Theatre. A beloved tradition featuring Tchaikovsky's beloved score. Learn more.

7. Quarter Horse Show at Four States Fair Grounds. Dec. 1-3. First show of the 2018 season. Learn more.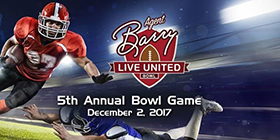 8. Live United Bowl. Saturday, Dec. 2. Texarkana's premier College Football Bowl Game featuring two of the top teams from NCAA Division II. Kickoff is at noon at the newly renovated Razorback Stadium in Texarkana, AR. Buy tickets.
9. Christmas Tour of Homes. Dec. 2-3. Tour five historic properties sponsored by the Quality Hill Neighborhood Association. Tickets $25 at the Texarkana Chamber of Commerce, 819 N. State Line Ave.
10. STILL TIME - "Can You Carry Social Support in Your Back Pocket? The Relationship Between Cell Phones and Pain Experiences." Today • Noon. In University Center 217 on the A&M-Texarkana campus. Hendrix College psychology professor Dr. Lindsay Kennedy presents as part of TAMU-T's PLACE series (Program for Learning and Community Engagement). FREE and open to public. "Cell phones are increasingly central to our social relationships, but can they help us with social pain?" For more information, [email protected]
---
WeeklyLIFT Partners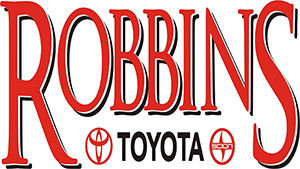 Thanks to Express Employment Professionals, Ledwell Office, Robbins Toyota and BancorpSouth for supporting the WeeklyLIFT.
Contact us to learn how you can become one of our WeeklyLIFT partners!
Share this post: