T-Town Top 10: Things To Do in Texarkana Oct. 10-16
Want to have a list of 10 awesome things to do in Texarkana delivered right to your inbox every week? Sign up for the WeeklyLIFT today!
A T-TOWN TOP TEN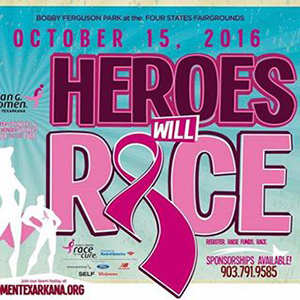 Walk OR run and serve a greater cause! Komen Race for the Cure is Oct. 15 at the Four States Fairgrounds. Survivor activities run from 7-8:15 a.m. and opening ceremonies begin at 8:30 a.m., with the 5K Run/Walk beginning at 9 a.m. and the Family Fun Stroll at 9:30. Closing ceremonies begin at 10:30a.m. Race day shuttles begin at 6 a.m. Register online today!


Party in Pink! An evening of great food, amazing entertainment and a SUPER silent auction. Dinner by TaMolly's and live entertainment by 2Pianos. October 14th, 7-10 p.m. Tickets are $50 per person and can be purchased when registering for the Race for the Cure or by calling the Komen office at 903-791-9585.


Front Street Food Fest. Finish the race October 15 on Front Street downtown, with a variety of food ranging from home-grown fresh produce of local farmers to fine cuisine from vending trucks. Join the local community, tourists, and surrounding areas to come out and enjoy the unique tasteful food that our city has to offer. 10 a.m.-8 p.m. Learn more.


End the Day with Romantic Fantasies! Texarkana Symphony Orchestra performs Oct. 15 at 7:30 p.m. at the Perot Theatre. Featuring Marcus Rose on viola. Concert preview at 6:40 with Music Director Marc Andre Bougie. Buy tickets online or call the Perot Theatre Box Office at 903-792-4992.


Women on a mission for fun and more. Come join Women for the Arts and make possible arts programs for all children all year round! See local artists and preview the upcoming year. WFA Membership Social Thurs, Oct. 13 from 5-7 p.m.


Classic Car Cruise In. Reggie's Burgers is hosting an area wide "Cruise In" from 5-7 p.m. on Oct. 13. Come and hang out when the friendly faces and super cool vintage, classic and hot-rod automobiles are on display.


Join the club! If you are interested in writing fiction, poetry, or creative nonfiction, please join the TC Creative Writing Club this Friday, Oct. 14 at 4:15 p.m. in the coffee lounge of the Texarkana Books-A-Million. No prior writing experience necessary; all you need to bring is something to write with and on. For more information about the Creative Writing Club, contact club sponsor Jesse Hausler.


On your own time... through Oct. 28, enjoy the Abstract Art of Joseph Raymond on exhibit at the John F. Moss Library on the 3rd Floor of the University Center at Texas A&M University-Texarkana. Raymond is an artist, decorative painter and owner of Transformations Fine Art and Finishes.


BRANDON HIGGINS
Registrar
Texarkana College

Brandon goes for Tacos Mi Pueblo's tacos al pastor with a side of papas con chorizo. He says you have to get raw white onion on the taco for the perfect texture balance!
BILL HARP
Assistant Superintendent
Pleasant Grove ISD
Bill says you should try the crawfish etouffee from Lagniappe Butcher Shop on Jefferson Avenue; they sell etouffee and gumbo by the quart!
---
Want to have a list of 10 awesome things to do in Texarkana delivered right to your inbox every week? Sign up for the WeeklyLIFT today!
Share this post: