They're In: Week of October 31, 2016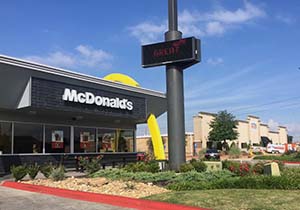 There is no-one more committed to the Beauty of Texarkana USA than Tom Sadowski of McDonald's, a local business that always walks their talk! Tom (LT Class of 1980) and McDonald's have been instrumental in keeping BEAUTY top of mind for city and community leaders for many years as a leader of Keep Texarkana Beautiful, from supporting the publicizing of monthly Beautification Awards for the two Texarkanas, to boots on the ground work of neighborhood clean-ups, the filling and tending sidewalk planters downtown, tree give-aways, and active advocacy at the local level for demolition of eyesores, and billboard and tree ordinances, and at the state level for maintenance of our I30 landscaping. A model for all of stepping up as a community leader around an issue he cares about.
THANKS TO TOM and McDONALD'S for...
Making Texarkana TWICE as Beautiful!
CLEAN NEAT GREEN PRETTY
Email YOUR suggestions for places in the greater Texarkana USA area that deserve KUDOS for modeling the way and whose commitment to beauty are sources of community pride.
---
Want to have Texarkana's best events, tips and kudos delivered right to your inbox every week? Sign up for the WeeklyLIFT today!
Share this post: