T-Town Top 10 (plus!): Things to Do in Texarkana Dec. 19, 2016-Jan. 8, 2017
Want to have a list of 10 awesome things to do in Texarkana delivered right to your inbox every week? Sign up for the WeeklyLIFT today!

---
Things to do in Texarkana December 19-Jan. 8: A T-TOWN TOP TEN (plus!)
Stroll through Bethlehem. In a walk-through family experience of the town of Bethlehem, A Night in Bethlehem offers kids and their families the chance to explore the city at the time of Jesus' birth through hands-on experiences, crafts and food. Bring your family and invite a friend! Mon, Dec 19 from 7-9PM St Luke's Methodist Church. Learn more.


Tis the season - to do for others.


Gather some friends and a pitch pipe and go caroling at a local nursing home. Sing traditional songs of the season and invite them to sing along. Find a nursing home.


Feed the hordes: Order food locally to serve your family or guests, but order double. Take the other half and drop it to someone who needs it. While you're at it, finish your shopping lists with gift certificates from local eateries as gifts; always appreciated!


Give cuddlies to kids who need hugs-–the kids of CASA. Donate stuffed animals at LifeWay Christian Store through the 24th. 903.832.0836.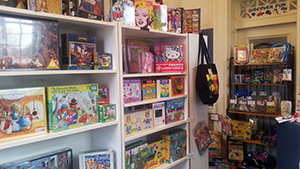 Finish your shopping while enjoying the music. Dec 23 at Central Mall. 4-6PM - Crusaders Ministries, Christmas Music; 6-7PM - Elle Michelle Saxophonist ...and don't forget these other local options with double impact, benefitting local organizations: Texarkana History in Pictures - at the Museum of Regional History; Polly Cook ceramics, Dean Lynn prints, plus tons of creative gifts for creative kids of all ages at For Arts' Sake (pictured) in the Regional Arts Center.
Stay Home. Nest. Make a point of giving your family or friends the gift of your home as a safe haven of love, peace, joy, and music.


Savor the reason for the season. Christmas Eve Dec 24th - Be part of one of the many community services at local churches. Find a Christmas service.
While the folks are in town, and while you have the time, thoughts for all ages, how about…
OR as cheap or FREE and fun alternatives…
Go downtown. Kids of all ages LOVE to get their pics taken in two states at one time and love to run around the post office grounds. Free time.


Discover Kidtopia Park - the Texarkana-kid-designed downtown park that looks like us... Adults love a swingset as much as kids. Beside it: The new skatepark, where the fun is watching the local pros in action.


Check out the NEW at the Texarkana Public Library… learn about e-services, expanded access to the world from Texarkana USA, all with your card. Dec 27-kids can read to Sketti the dog at Pages with Poochie 4PM. Holiday Hrs: Closed 5PM Thurs Dec. 22 till 9AM Tues Dec 27; Closed Noon Fri Dec 30 till 9:00AM Mon Jan 2.
Take the WOW tour: (those who've never been will be "wow-ed" by what they see in Texarkana... who knew?)
Regional Arts Center - with two great exhibits AND the Cabe Hall to enjoy, all from TRAHC.
Holiday Hrs:
Dec 19 - 23: Tues–Thurs 10-4; Fri from 10–1
Closed Christmas Eve Day
Dec 26-31: Tues–Thurs 10–4; Fri: 10-1
Closed New Years Eve Day (Saturday)


TMS treasures:
Holiday Hrs: Tues–Sat 10–5; Sun 1–5
Closed Christmas Eve Day & Christmas Day. We Open New Year's Eve Day and New Year's Day.



Discovery Place - try the sound wall while the kids play dress up.
Ace of Clubs House - dressed for the holidays
Ahern House - the newest addition to TMS
Museum of Regional History - and rent bikes while you're there.



Hit the yard or the parks with your family and a ball… football, basketball, soccer ball, frisbee... to get a pre-Jan 1 head start on taking off the pounds.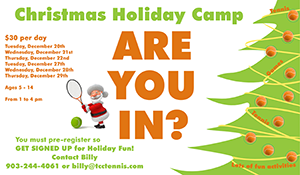 Christmas Kids' Tennis Camp for ages 5- 14. Fun and games. All kids welcome. Dec 20-22; 27-29 from 1-4PM. 903.244.4061. Learn more.


World Series Team Roping at the Four States Fair Entertainment Center; Dec 31-Jan 01 from 9AM - 5PM. Learn more.


Ring in 2017: United We Rock on New Year's Eve benefitting United Way of Greater Texarkana, with music by Roger Delano Band (and a babysitting suite sponsored by Target); 8PM - 1AM - Txk Convention Center - 903.733.6300 or 903.276.0932.


Jan. 2-8: HAPPY NEW YEAR! Eat less; move more!
This Week's Totally T-Town Fave Foods
Kenny Haskin
City Manager
City of Texarkana Arkansas
recommends...
Beef Enchiladas from Zapatas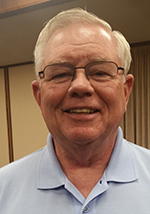 John Whitson
City Manager
City of Texarkana Texas
LT Class of 2015
loves
The Catfish Dinner from Wayne's Family Restaurant.
Share this post: