Did You Know: Week of Nov. 7, 2016
Texarkana USA:
A thriving center for business, education and culture that attracts–and serves–us all.
Citizens committed to Working Smart for Excellence, Educational and Cultural Riches, Community Pride, Economic, Social and Personal Well-Being
---
Speaking of Commitment to Social and Personal Well-Being...

DID YOU KNOW?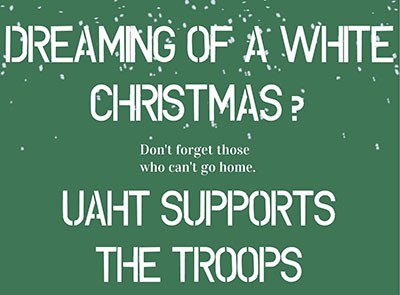 The University of Arkansas Hope-Texarkana Fine Arts Club is sponsoring a military service member holiday care package drive to be sent to units in Afghanistan.
In Texarkana, all donations should be delivered to the Texarkana Campus, UAHT Fine Arts Club by Nov 14 (so do it this week!). Troops are in great need of toiletries or other small goodies from home to add some cheer to their holiday season.
Also, if you would like to sponsor the postage cost of a package, the cost is $12.95 each. Please make checks payable to: UAHT Fine Arts Club.
For more information, including a list of suggested items, visit their website.
Share this post: