They're In: Week of November 14, 2016
THEY'RE IN!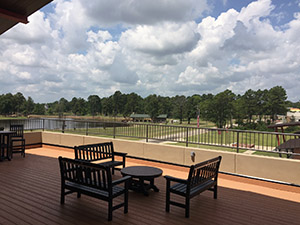 This shot from the third-floor west roof deck of the new Professions Building on the UAHT campus beside the Four States Fairgrounds overlooks Bobby Ferguson Park and Lake Dieffenbacher, a four-acre fishing lake with accessible pier, stocked by the Arkansas Game & Fish Commission with over 3,000 pounds of catfish. There's also a nice walking trail lined with benches donated by the students of Texarkana, Arkansas.
Submitted by Chris Bachers
Instructor of English; Program Coord.
Univ of AR-Hope/Texarkana
LT Class of 2017
THANKS TO UACCH-T for...
Making Texarkana TWICE as Beautiful!
CLEAN NEAT GREEN PRETTY
Email YOUR suggestions for places in the greater Texarkana USA area that deserve KUDOS for modeling the way and whose commitment to beauty are sources of community pride.
Sign on for beauty to Operation Facelift or Adopt at Spot at the city of Texarkana, AR Adopt a Spot at the city of Texarkana, TX.
Read more about the beauty challenge and saying "We're In!"
Share this post: