Did You Know: Week of February 13, 2017
Texarkana USA:
A thriving center for business, education and culture that attracts–and serves–us all.
Citizens committed to Working Smart for Excellence, Educational and Cultural Riches, Community Pride, Economic, Social and Personal Well-Being
---
Speaking of Working Smart for Economic, Social and Personal Well-being...
DID YOU KNOW?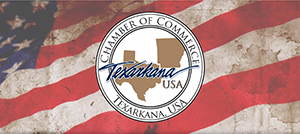 YOU have a chance to step up and WORK SMART for our community's excellence, and the economic, social and personal well-being of all who live here.
Join leaders from Texarkana USA and sign on with the Texarkana USA Chamber of Commerce as they host day long agendas in both Little Rock (on Feb 22) and to Austin (Mar 8) to meet with legislators and state-based leaders in the respective capitol cities, and be part of the collective voices speaking on behalf of our community.
REGISTER BY FEB 15 for LITTLE ROCK
You won't want to miss Capitol Office visits with Lt. Governor Tim Griffin and Governor Hutchinson and presentations including education and transportation.
To learn more and register, call the Chamber at 903.792.7191.
Share this post: