T-Town Top 10: Week of March 20-26, 2017
Want to have a list of 10 awesome things to do in Texarkana delivered right to your inbox every week? Sign up for the WeeklyLIFT today!
---
A T-TOWN TOP TEN
Things to do in Texarkana March 20-26, 2017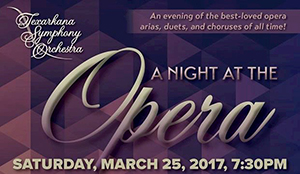 A Night at the Opera. Saturday, March 25. Join Texarkana Symphony Orchestra and Guest Artists John Riesen, Marsha Thompson, the Texarkana Regional Chorale and the Veritas Academy Children's Chorus for an evening of the best-loved opera arias, duets, and choruses of all time! Concert Preview at 6:40 PM. Perot Theatre Box Office 903-792-4992.

On your way to the theater, drop by the RAC:

"Everything Returns to Nature:" The Art of Joel Wright. Saturday, March 25 | 6:30-8:00 p.m. Opening Reception with artist. Refreshments. Free. Regional Arts Center.


2nd Annual Senior World Championship Barrel Race (50 & Over). March 23-25. Watch out young guns– the older generation still has it! Three days of fun, laughter and friendships. Four States Fair Entertainment Center.


Check it out! GForce Indoor Trampoline and Ninja Complex on Stateline! Learn more at www.gforcetexarkana.com.


GO PINK! Pink Ride. Saturday, March 25 | 10 a.m.-9 p.m. Turn out for the PINK RIDE to raise money for folks in our community who need help with medical expenses not paid by private insurance. Motorcycle/car ride leaves Front Street Festival Plaza at 10AM to Garland City for refreshments, then returns for Live Auction, Vendors, Live Music, Food, Adult Refreshments, Bike Show, Jeep Show, 4x4 Show and more! Join the Pink Ride "Grease Flash Mob" and Rock Out (Open rehearsal for any willing flash mobbers is 221 Broad Downtown, Monday at 6:00pm). Pink Ball is Fri, Mar 24 6PM-until at Texas Elks Lodge. Live music by Vernon Hinesley, Food, photo booth, Live Auction. For details on this 2 day event please see www.pinkride.org.


Lots to Learn:


Dr. Walter Casey Super Lecture, "Tulia: Race and Cocaine." Thursday, March 23 | 11 a.m.-12:15 p.m. Headlines and infamy for a small town in Texas. TAMUT University Center.


"Arkansas Women and the Great War" by author and historian Elizabeth Hill. Saturday, March 25 | 1-2:30 p.m. Texarkana Museums System. Ahern House. Free.


Texarkana EggFest. Saturday, March 25 | 9:30 a.m.-3 p.m. Teams of cooks will demonstrate how to make delicious recipes on Big Green Egg grills all day, including breakfast, appetizers, entrees, and desserts - and ticketholders get to taste it all. Prize giveaways all day. $15. Dot's Ace Hardware on Richmond Rd.


Lunch & Learn. Legislative Update by Robbin Bass, Reg'l Rep for U.S. Congressman John Ratcliffe. Tuesday, March 21 | 10:45 a.m.-1 p.m $4.00 for lunch & dessert. Blood pressure, cholesterol & blood sugar checks. Sponsored in part by ATCOG Area Agency on Aging; for 60s and up. Williams Memorial UMC.


Check out Community & Business Eduction classes at Texarkana College. View schedule at ce.texarkanacollege.edu.





Art Show Hosted by Joseph Raymond Fine ART. Thursday, March 23 | 5-8 PM. Omega Professional Bldg, Downtown.

Then make a couple of mugs with Chris Thomas. Thursday, March 23 | 6-8 p.m. TRAHC's Regional Arts Center. 903-792-8681. (or on Sat, Mar 25 10 AM–Noon)


Team Sumoas' Crawfish Boil Fundraiser at Fat Jack's for Relay for Life benefiting the American Cancer Society. Sunday, March 26 2-6 p.m. Music by Strangelove, special guest Roger Sheppard provides a little Magic! $25 for ALL YOU CAN EAT crawfish feast.


ACT NOW: FUN for Spring Breaks


This Week's Totally T-Town Fave Foods
Russ McDermott
Editorial Page Editor for the Texarkana Gazette
recommends...
Lamb Chops from Park Place


Dr. Russell Mayo
UAMS-SW
LT Class of 1995
loves...
The Blasphemer (a sliced brisket sandwich topped with coleslaw and Naaman's Mustard Sauce) from Naaman's BBQ
---
Share this post: