Did You Know? Saturday, April 8 was a stellar day of community commitment and investment!
Texarkana USA:
A thriving center for business, education and culture that attracts–and serves–us all.
Citizens committed to Working Smart for Excellence, Educational and Cultural Riches, Community Pride, Economic, Social and Personal Well-Being
---
Speaking of Community Pride...
DID YOU KNOW?
Saturday, April 8 was a stellar day of community commitment and investment!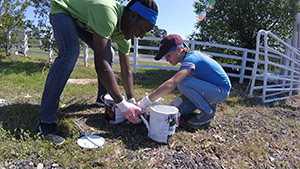 In the morning: The First Annual Texarkana A&M Big Event Eagle Pride City Wide set a new standard for day of service in Texarkana USA with more than 250 Texas A&M University-Texarkana students, faculty, staff and alumni joining together with the community in tackling projects at more than a dozen locations on both sides of the state line. Following a kick-off pep rally with the Texarkana mayors, participants helped area nonprofit organizations, parks, neighborhoods and animal shelters with tasks such as yard work, painting fences, sorting donations, cleaning and planting shrubs, flowers and vegetables. One group of students even removed an old fence at the Texarkana Regional Airport.
Marina Garza, a senior English major from Garland, Texas, "It was amazing to see the turnout of not just the A&M-Texarkana community, but the people of Texarkana altogether in making a difference for this city." Zak McCarthy, a junior business administration major and Eagles soccer player from Hemel Hempstead in the U.K., said "It was amazing to have the chance to give back to a community which I now call home. I loved every minute of it."
TAMU-T President Emily Cutrer praised the success and said, "...we look forward to building upon this foundation as we continue this new A&M-Texarkana tradition in the years to come."
That SAME night: - a record-setting 500-plus Texarkanians turned out for the largest ever Women for the Arts' Party with Picassos, raising a record-breaking amount of funds to support TRAHC's art programs for children, including its national model ArtsSmart program.
A GREAT community filled with generous souls!
Share this post: