Did You Know? The DOE has donated equipment for molecular photocopying to TAMU-T
Texarkana USA:
A thriving center for business, education and culture that attracts–and serves–us all.
Citizens committed to Working Smart for Excellence, Educational and Cultural Riches, Community Pride, Economic, Social and Personal Well-Being
---
Speaking of Educational Riches...
DID YOU KNOW?
Did you know that the DOE has donated equipment for molecular photocopying to TAMU-T?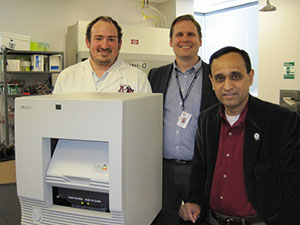 The U.S. Department of Energy has donated an Applied Biosystems 7000 Sequence Detection System to the Texas A&M University-Texarkana STEM College (Science, Technology, Engineering and Mathematics). Sometimes called "molecular photocopying," PCR is a tool used to copy small segments of DNA and is applicable to many fields in biology and related sciences.
"PCR is used every single day to diagnose illnesses, identify bacteria and viruses, process evidence from crime scenes and in many other ways," said Dr. David Reavis, interim dean of the College of STEM. "The equipment will allow our students to learn about genetic sequencing with a hands-on approach."
[It] will allow the faculty at A&M-Texarkana to incorporate new instructional exercises with the equipment to prepare our students for future careers, propose new research projects for external funding, and allow for a connection with the DOE for future funding projects." Congratulations!
Share this post: