T-Town Top 10: Week of May 15-21, 2017
Want to have a list of 10 awesome things to do in Texarkana delivered right to your inbox every week? Sign up for the WeeklyLIFT today!
---
A T-TOWN TOP TEN
Things to do in Texarkana
May 15-21, 2017


Tinkerfest Texarkana. Saturday, May 20 | 9 a.m.-3 p.m. Enjoy the first annual local event at the Discovery Place Children's Museum and around! A unique, family-friendly event featuring tons of hands-on stations that celebrate tinkering – building things, taking things apart, figuring out how things work–a trial-and-error platform that values the creativity and hands-on, open-ended exploration that comes with making things. Enjoy stations like Imagination Photo Station, Duct Tape Design, Slime a Rama,Pasta Palooza, AND Crime Lab with Fingerprinting and solving a Mock Mystery offered by the Texarkana, TX Police Department Admission $10 AND includes all day admission to the Discovery Place. (Interested in hosting a Station at Tinkerfest? Call 903-793-4831)


25th Annual Juried Student Exhibit Opening Reception. Saturday, May 20 | 10 a.m. Presented by TRAHC for 25 years, to feature art from elementary, middle, and high school students in the Four States Area.


3rd Annual Dinner & Fashion Show to benefit The Healing Place of Texarkana. Saturday, May 20 | 5:30 PM - 8 PM. At Williams Memorial UMC. For info or ticket, call 870.779.9232 / 903.691.0310.


Horse Show: Spring Victory Challenge. May 19-21 | 8 a.m.-7 p.m. At Four States Equine Center, Four States Fair Entertainment Center May 19 - May 21.




Hit the Trail! The Camp Preston Hunt Hiking and Biking Trail is over six miles that could be just the challenge to you need! One of the few registered bike trails in Texarkana, new scout executive Anthony Escobar welcomes people to contact him about a visit.





Movies in the Park: Finding Dory. Thursday, May 18 | Approx. 7:45 p.m. (at dark) Finding Dory kicks off another season of Movies in the Park at Spring Lake Park presented by the Texarkana TX Parks and Recreation Department. Bring blankets and chairs; plan for popcorn!




Mark Chesnutt LIVE. Friday, May 19 | Scottie's Grill Dusty Rose Band opening.





iJump Trampoline Park and Ninja Course is open for business! Next to Best Buy In Texarkana's Pavilion Parkway.


This Week's Totally T-Town Fave Foods
"I love the Ahi Tuna at Twisted Fork! When in season, the grilled okra is amazing!"
WANDA BOYETTE
TISD Board of Trustees & Texarkana College flower guru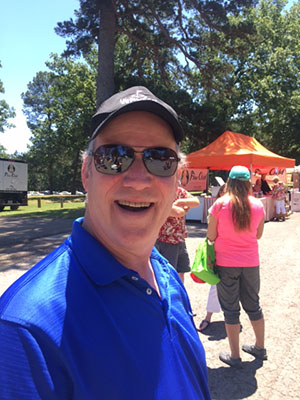 "Two-way tie at the Wine Festival Food Court: Boudin from Pop's Place and Brisket Sandwich from Naaman's."
WILLIAM MORRISS
Vice President, Offenhauser & Co.; LT Class of 1984
---
Want to have a list of 10 awesome things to do in Texarkana delivered right to your inbox every week? Sign up for the WeeklyLIFT today!
Share this post: