T-Town Top 10: Week of Dec. 4-10, 2017
T-TOWN TOP TEN
Things to do in

Texarkana December 4-10, 2017
1. Monday, Dec. 4 - Party DOWNTOWN!
33rd

Annual

Main Street Christmas

Parade.

Join the crowds Downtown at 7 p.m.

Come EARLY - best parking AND before the Texarkana Christmas Parade enjoy:

Front Street Holiday Market

,

4-10 p.m.

Featuring a live nativity scene, 4-10 pm before, during and after the parade. Presented by TACPAA.



Shop for Christmas at the Holiday

Farmer's Market.

5-7 p.m.

City of Texarkana, Texas. Before the parade at 305 Texas Blvd.
2. Make holiday crafts all week!
Holiday Décor on a Budget, Tuesday, Dec. 5 at Noon.

Making Live Holiday Wreaths, Wednesday, Dec. 6 at Noon.

Holiday Crafts for Kids, Friday, Dec. 8 at Noon.
ALL at TAMU-T's Texar Room, Reservations: [email protected] or 903-334-6683.
3. Exposition of Sacred Relics, Treasures of the Church. Tuesday, Dec. 5 • 7 p.m. At St. Edward Church, Info at: 903-276-8173, treasuresofthechurch.com
4. Bramlett Beans and Cornbread. Thursday, Dec. 7 • 10 a.m.-2 p.m. (with the Texas High Ceramics Class) at the City of Texarkana, TX Southwest Community Center, 3222 W 7th Street, Texarkana, TX.
5. Christmas Drop-In Art (FREE!) Workshop. Saturday, Dec. 9 • 1–4 p.m. For Ages 4-11; presented by TRAHC at the Regional Arts Center. (No registration required)

6. 4th Annual Santa Sprint 5k. Saturday, Dec. 9 at 8 a.m. Celebrate the joy of the Season by slipping into your Santa Suits or Jingle Bells and race, sprint, stroll and jingle to raise funds to support the Texarkana Museums System. 903-793-4831. Sign up.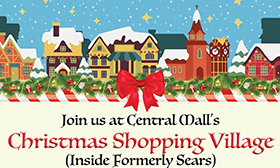 7. Check out Central Mall's Christmas Shopping Village in the old Sears location. Presented by the Greater Texarkana Young Professionals, with proceeds for scholarships for local graduating seniors. Every weekend until Christmas. Free admission, shop local vendors. (Interested in becoming a vendor? Booth spaces are available! Great Traffic and exposure for your business.)
8. Share Your Joy. Take time to share your joy so that others might smile this holiday
The good folks at Express Employment Professionals will match your donations of unwrapped toys or cash to provide gifts to area foster children and more. Drop at 3206 Jefferson Ave or call 870.773.1313 for pick-up through December 11.

OR Pick an angel off the Salvation Army Christmas Angel Trees - at Central Mall and throughout the community.
9. Celebrate the Reason for the Season. Celebrate the reason for Christmas with local churches listed below - (AND Google for others–or read the Texarkana Gazette–to get a full listing of Christmas programs to be enjoyed by all ages during this season of JOY and MUSIC!)
4th Annual Drive Thru LIVE

N

ativity.

Friday, Dec. 8 (7-9 p.m.)

& Saturday, Dec. 9 (6-9 p.m.).

Open to ALL and FREE! First Assembly of God (The old Lighthouse), 3401 West 7th Street, Texarkana, TX

Dinner and Show.

Friday, Dec. 8 • 7 p.m.

Texarkana AR House of Prayer Holiness Church with performance by the Fumbly Bumbly Angels. 906-490-9712 or 903-490-0853.

The Grace of Christmas Play. Sunday, Dec. 10 • 10:30AM

at First Baptist Church, Moores Lane.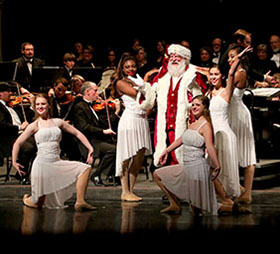 10. BIG FINALE TO THE WEEK! Christmas at the Perot Theatre. Sunday, Dec. 10 • 4 p.m. Presented by Texarkana Symphony Orchestra. Beautiful music from TSO with the Texarkana Regional Chorale, and Texarkana Youth Symphony Orchestra, the Texas High Highsteppers, and Santa Claus. A holiday concert for the whole family. 870-773-3401. http://www.texarkanasymphony.org
---
WeeklyLIFT Partners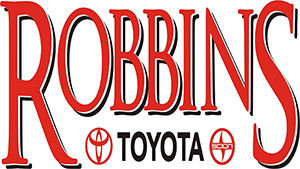 Thanks to Express Employment Professionals, Ledwell Office, Robbins Toyota and BancorpSouth for supporting the WeeklyLIFT.
Contact us to learn how you can become one of our WeeklyLIFT partners!
Share this post: