T-Town Top 10: Week of March 12-18, 2018
T-TOWN TOP TEN
Things to do in Texarkana March 12-18, 2018
SPOTLIGHT ON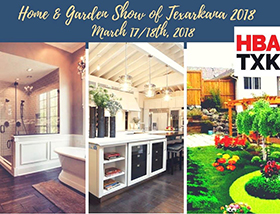 1. The 2018 Texarkana Home & Garden Show
Saturday-Sunday, March 17-18. At Hilton Garden Inn TX Convention Center. The "premier consumer home event in Northeast Texas and Southern Arkansas" based upon its large showcase of products and services. Don't miss it! 9 a.m.-5 p.m. daily. Learn more.
2. Murder Mystery Dinner Theatre!
Saturday, March 17. Ahern House of the Texarkana Museums System. 5-7 p.m. Take part in a 1940s murder mystery called "The Auction" for an evening of bidding and bloodshed in Historic Downtown Texarkana. Pull out your fedora or best cocktail hat to join the fun. Make a reservation today to receive your character's biography and special notes on how to play the game along with notes on 1940s costumes. Deadline for reservations is March 15. Tickets on sale now! Details at 903-793-4831 or [email protected]. Learn more.
and don't miss...
3. Arts and Crafts Classes at Michaels
For a full list of classes, visit: http://www.michaels.com/classes
Monday, March 12: Learn to make a lava bead bracelet. 6:30-8:30 p.m.
Saturday, March 17: Make an Easter-themed craft. 10 a.m.-3 p.m.

4. Tuesday, March 13
Volleyball for Single Adults at First Baptist Church Moores Lane. Every Tuesday 7-9 p.m. Participants can check FBC's online calendar each week to confirm that volleyball will take place. Games are played in the gymnasium. Adults of all ages are welcome.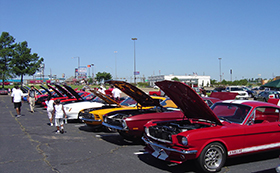 5. Tuesday, March 13
Monthly Meeting - Four States Mustang Corral. First Tuesday every month; 6 p.m. Reggie's Burgers on State Line Avenue. Fun and fellowship for local Ford Mustang enthusiasts. Learn more.
6. Thursday, March 15
DIY Workshop at Home Depot: Learn How to Build a Bookshelf Planter. 6:30-8:30 p.m. Free, do-it-yourself workshop designed to provide a mix of associate-led demonstration and hands-on learning. This week, learn how to cut, stain, frame, and assemble a bookshelf planter.
More at 903-832-6002, or at homedepot.com.
7. Thursday, March 15
Ballroom Dance Classes. Hardy Memorial United Methodist Church, 6:30-8 p.m. The Texarkana Ballroom Dance Enthusiasts regularly host ballroom dance classes for $15 per person. Learn more.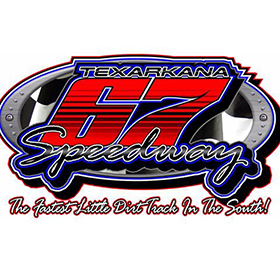 8. Friday, March 15
Winter Frenzy at Texarkana 67 Speedway. Races begin at 8 p.m. Gates open at 5 p.m. for a night of fun and racing. The dirt track will host eleven races for the season's opening night. Learn more.
9. Saturday & Sunday, March 17-18
HYPECON 2018. 10 a.m.-6 p.m. in former Sears store at Central Mall. A Comic Con-inspired event aimed at Helping Youth Progress Everyday (hence the acronym "HYPE"). The event will include video game tournaments with cash prizes, live panels, vendor booths, and more. Participants are encouraged to dress up as their favorite fictional character, whether from a cult-classic film, comic book, or otherwise. Tickets at www.hypeconevents.com. Learn more.
10. Saturday, March 17
Third Annual Daycee's Run to Remember. 9 a.m. Daycee's Run to Remember is an annual non-profit 5K race created to help families show the love for the children they mourn. Runners must register for the race. Registration fees will be donated to the Arkansas Children's Hospital. The race will start at Trinity Baptist Church. Learn more/register.
---
WeeklyLIFT Partners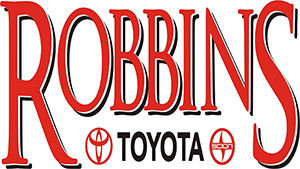 Thanks to Express Employment Professionals, Ledwell Office, Robbins Toyota and BancorpSouth for supporting the WeeklyLIFT.
Contact us to learn how you can become one of our WeeklyLIFT partners!
Share this post: