T-Town Top 10: Week of April 16-22, 2018
T-TOWN TOP TEN
Things to do in Texarkana April 16-22, 2018
SPOTLIGHT ON
1. TRAHC presents The Sleeping Beauty performed by the Moscow Festival Ballet.
Saturday, April 21
Perot Theatre. The classic fairy tale comes to life through Russian ballet beautifully choreographed to the world-famous score by Tchaikovsky. Often considered the greatest achievement of the classical ballet, with spinning turns, soaring leaps, and exquisite dancing, experiencing this fairytale on stage with be memorable for generations to come. Sponsored in part by Texarkana Community Ballet. Series sponsored in part by Century 21 All Points Realty. Student tickets only available directly through the Box Office (903) 792-4992. Learn more.
And don't miss...
2. Thursday, April 19, 7-10 p.m.
Cigars, Tinis and Tunes
Benefiting the Randy Sams Outreach Shelter. Featuring cigars from Puff 'NStuff, unlimited martinis, food, an incredible silent auction and fabulous entertainment by 2Pianos. Always a fun event! Hopkins Icehouse Downtown. Tickets $50 to support a great cause; also available at the door. 903.280.2289. or www.randysams.org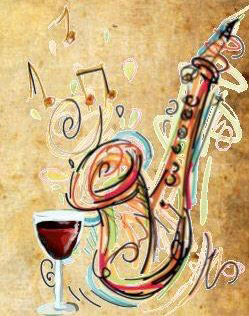 3. Friday, April 20
Wine & Jazz Gala
Harvest Regional Food Bank's annual gala at the Silvermoon on Broad. Enjoy expertly selected wine paired with gourmet food prepared by some of our areas top chefs. Don't miss it! 870.774.1398. Learn more.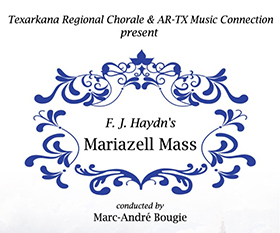 4. Friday, April 20
Mariazell Mass
Texarkana Regional Chorale & AR-TX Music Connection offer a one-time only pre-Carnegie Hall performance of Haydn's timeless masterpiece, the Mariazell Mass, conducted by Marc-Andre Bougie. 7:30 p.m., Sacred Heart Catholic Church. FREE. Donations accepted.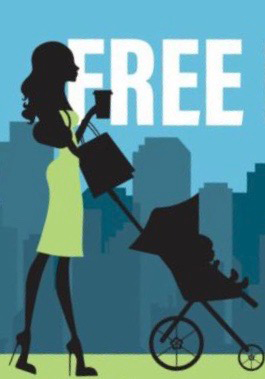 5. Friday, April 20
MomNite at the Texarkana Convention Center
5-11 p.m. FREE. Taco Bar. Wine and cupcake pairings. Shopping. Door Prizes, Breakout classes. Panels and presenters including Robin Rogers and Tim Reynolds and Moms! No Kids Allowed. Childcare available at Klondike Academy.
6. Saturday, April 21
Community Yard Sale
Spring Lake Park, 8 a.m.-3 p.m. Hosted by the City of Texarkana, TX
7. Saturday, April 21
3rd Annual Dragon Boat Race Festival
At Bringle Lake Park-benefiting HandsOn Texarkana. Fun in a dragon boat or from the shore, rooting on the teams...20 co-workers, friends and/or family members paddling each boat at this exciting event! Learn more.
8. Now through May 12
TWO Beautiful Art Exhibits at the Regional Arts Center
FREE. Tuesdays-Saturdays, 10 a.m.-4 p.m. Presented by TRAHC. Learn more.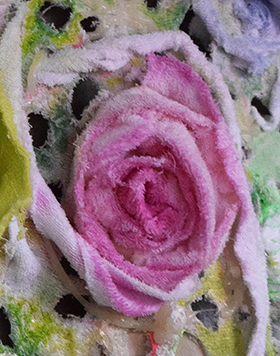 spRinGeey. A collection of springtime artworks hand made by the artist Amy Beth Wright specifically for her first solo exhibition in Texarkana.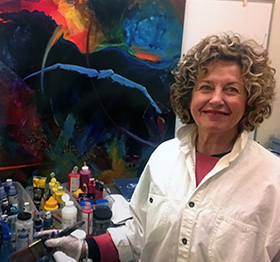 An Artist's Eye: From Realism to Abstract. Judy Walter's art features a variety of media, expressionistic, bold design, and color palettes for her landscapes, figures and portraits.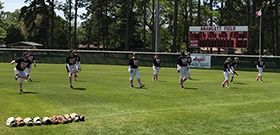 9. Tuesday, April 17
TAMU-T Eagles Baseball at George Dobson Field
Against Texas Weslayan University. 5 p.m.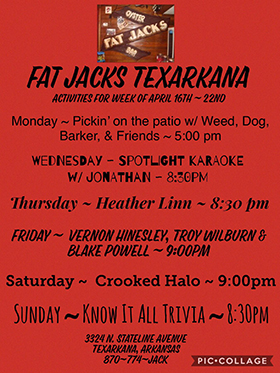 10. Live music Thursday-Saturday night
Fat Jack's Oyster and Sports Bar.
View schedule.
---
WeeklyLIFT Partners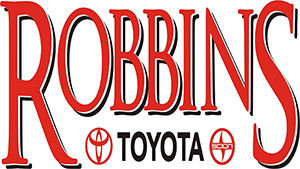 Thanks to Express Employment Professionals, Ledwell Office, Robbins Toyota and BancorpSouth for supporting the WeeklyLIFT.
Contact us to learn how you can become one of our WeeklyLIFT partners!
Share this post: