T-Town Top 10: Weeks of Aug. 13-29, 2018
T-TOWN TOP TEN
Things to do in Texarkana Aug. 13-26, 2018
SPOTLIGHT ON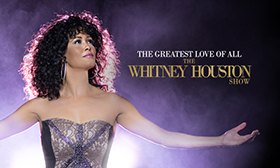 1. The Greatest Love of All: The Whitney Houston Show
Friday, Aug. 24
7:30 p.m., Presented by TRAHC in the Historic Perot Theatre. For one night only! It's time to FILL THE THEATRE as Belinda Davids brings to Texarkana the outstanding vocal power of one of the greatest singers of all time in a concert worthy of her name. The look. The demeanor. But most of all - THE VOICE! The tour comes hot on the heels of star Belinda Davids' lauded performance on Fox TV's Showtime at the Apollo Special in December 2017, where her spine-tingling rendition of 'I Will Always Love You' earned her not only the awe of host Steve Harvey and an enthusiastic ovation from the live audience, and over 10 million views of the performance video on Facebook in the days following. Backed by a five-piece band, vocalists and dancers, this will be a "moment in time!" Gather your friends and be there! Listen here!
And don't miss…
2. Wednesday, Aug.-Saturday, Aug. 18
Texarkana Open Golf Tournament
Benefiting Texarkana Children's Charities: Runnin' WJ Ranch. Featuring great golf and (undoubtedly) some golf greats to come! With a field of over 100 golfers from across the country, and over $132,000 in prize money, it will be an week to relish! Come out to watch the play. Learn more.
3. Thursday, Aug. 16
Craft Beer and Local Food Pairing

Julie's Deli, 7-9 p.m. You love locally crafted beer? You appreciate great food? Buy a ticket and join the crew at Julie's Deli! Pairing for the first time, amazing home brew donated from Four States Fermenters featuring CRAFTED BEER from Priority Brewing Co. and LOCAL EATS from Jennifer Tanner, Executive Chef at Julie's, - you don't want to miss out! Tickwet includes a 1-year membership to the Texarkana Fermenters Club. Learn more.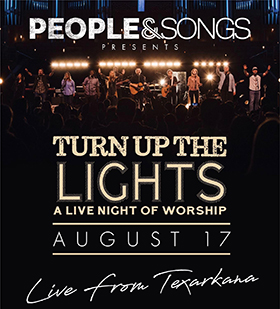 4. Friday, Aug. 17
People & Songs presents Turn Up the Lights
6 p.m., Four States Fair Entertainment Center. Brought to you in Texarkana by Know Your Worth Ministries. $20 general admission; $50 reserved VIP seats which include a meet and greet with the artists. Group discounts available by calling the fair box office. Learn more.

5. Saturday, Aug. 18
Duck Race from Christus St. Michael Health System
9 a.m., Holiday Springs Waterpark. Have you adopted your ducks yet? This year's top prize is 2018 Kia Forte XL from our friends at @Classic Kia! But there are more prizes to be had! AND this year's The Great Texarkana Duck Race is benefitting 3D mammography services at the CHRISTUS St. Michael Imaging Center. Adopt your ducks TODAY at www.christusstmichaelfoundation.org or call 903.614.7223 – then be on hand for the big RACE on Saturday the 18th! GOOD LUCK! Learn more.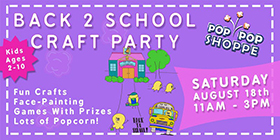 6. Saturday, Aug. 18
Back To School Craft Party
11 a.m.-3 p.m., Pop Pop Shoppe. Celebrate the beginning of the new school year and treat your kids for their great first week of classes: with crafts, face painting, games with prizes, lots of popcorn and more!

7. Saturday, Aug. 18
Medieval Games at Discovery Place Interactive Museum
2-3 p.m. Activities include jousting run, apple bob, javelin throw, sword in a stone, and dragon drop. Brought to you by the Texarkana Museums Systems. Admission $8 - Members $3. Learn more.



8. Saturday, Aug. 25
Women for A&M Gourmet Brunch
10-11:30 a.m. Texas A&M University-Texarkana University Center Tri-State Iron & Metal Atrium. Featuring one of New Orleans hottest chefs, Michael Gulotta, Chef of Mopho and Maypop, this annual gourmet brunch from this dedicated group of hard-working women supports the growth of TAMUT for our community! Buy tickets.



9. Saturday, Aug. 25
Last day of TRAHC's 30th Annual Juried Exhibit
Regional Arts Center. FREE. Come celebrate the artwork of 19 local artists and 55 additional artists from all over the United States! Only 103 pieces of artwork were selected from 332 entries. All submissions were reviewed and judged by Sean Fitzgibbons, MFA, Director of the Meadows Museum of Art at Centenary College of Louisiana, Shreveport, Louisiana. Sponsored in part by E-Z Mart. Learn more.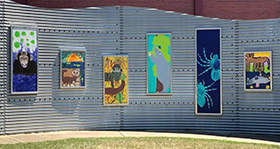 And while you're at the Arts Center, be sure to enjoy the newest installment on TRAHC's ArtWall in the neighboring ArtsPark! Created by area children in summer art camps featuring a delightful outdoor gallery of endangered species.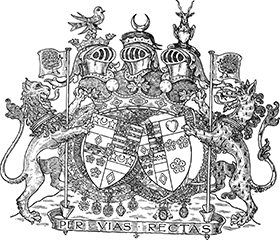 10. Saturday, Aug. 25
Knight of Murder Mystery Dinner Party
6-9 p.m. at the Ahern Home. Presented by Texarkana Museums System. Hear ye! Hear ye! All Knights, Nobles, and Sundry! Solve the mystery while you mingle amongst nobility and feast on the finest medieval foods. Characters will be assigned to attendees on a first come, first served basis. Costumes are highly encouraged but completely optional. For costume and prop ideas, please email [email protected] or Contact TMS at 903-793-4831 for tickets! Deadline for purchasing tickets is August 23. Learn more.
And one more thing…
Tuesday, Aug. 21
Texarkana Regional Chorale begins rehearsals for new season!
The time has come to prepare for another great season of music with the Texarkana Regional Chorale (TRC) under the leadership of Music Director & Conductor Marc-Andre Bougie and Pianist Mary Scott Goode. TRC is the premiere large choral ensemble of the Ark-La-Tex. The group rehearses weekly from August until May on Tuesdays from 6:30 until 8:30 pm in the Music Hall of the Stilwell Humanities Building at Texarkana College. If you are new to singing with the Chorale, you will need to sing a vocal placement audition the night of our first rehearsal. Please e-mail us back to schedule a time. For details on cost and eligibility, [email protected].
---
WeeklyLIFT Partners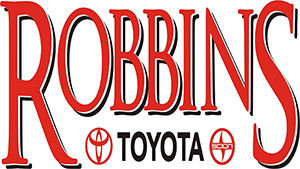 Thanks to Express Employment Professionals, Ledwell Office, Robbins Toyota and BancorpSouth for supporting the WeeklyLIFT.
Contact us to learn how you can become one of our WeeklyLIFT partners!
Share this post: