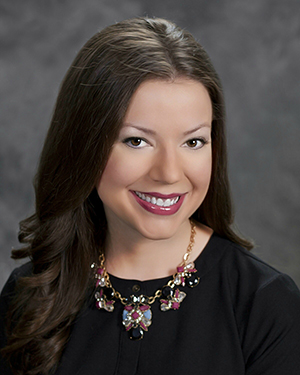 Rachael Schwartz
Assistant Vice President & Marketing Officer
Farmers Bank & Trust
Leadership to me means taking initiative to recognize an issue that needs help and believing that you can take it on while doing the right thing for the organization, even if it is going to be difficult. It is also imperative to ask for help when you need it and always give credit to your team. Another important piece of leadership is continuing to find learning opportunities that help broaden your horizons.
Farmers Bank & Trust in Texarkana is hard to miss in Texarkana. There aren't many community events they don't support. Rachael Schwartz plays a large role in their marketing involvement. From social media to contests at the bank, Rachael helps formulate and implement those marketing plans. Leadership Texarkana had the opportunity to ask Rachael Schwartz, Assistant Vice President of Farmers Bank & Trust, a few questions about leadership, the Texarkana community and LT. This is what she had to say.
What have you learned most about making a difference in Texarkana (or about your opportunity for community leadership) from being a part of Leadership Texarkana?
I learned that you are never too young to get involved, become a leader, and make a difference! I also learned that it is important to help organizations or causes that align closely with your passions and talents.
For what community organization or issue or opportunity do you have a passion and invest your time, talent or money?
I'm a member of Kiwanis, the Partnership for the Pathway Board, the Texas A&M University Young Professionals Board, American Heart Association Heart Ball Committee, Leadership Texarkana Leadership Team, and the Arkansas Bankers Association Emerging Leaders Council.
If you had one wish and could make a difference of significance in Texarkana (your small corner) what would you do with that one wish and why?
More trails and better internet/cellular service.
What do many people not know about you that you would to share with us? What are some of your passions and hobbies?
I was a majorette at the University of Arkansas including spending one year as captain! I enjoy attending Razorback events and staying active any way possible whether it is hitting a trail, teaching twirling lessons, or traveling.
What do you most love to do in Texarkana?
I love going to Nix Creek Trail and numerous community events.
What do you most love about Texarkana, in general?
That Texarkana is large enough to have a lot going on all the time, yet small enough that it is easy to go anywhere (within 10-15 minutes) and have several friends in the room.
Share this post: