T-Town Top 10: Weeks of Aug. 7-20
Want to have a list of 10 awesome things to do in Texarkana delivered right to your inbox every week? Sign up for the WeeklyLIFT today!
---
A 2-WEEK T-TOWN TOP TEN
Things to do in Texarkana August 7-20, 2017
The Countdown's on for BACK TO SCHOOL!
1. On Saturday, August 12:


Wild About Wellness Children's Health & Wellness Fair. 9 a.m.-Noon | Four States Fairgrounds. A day of health-related fun for Ark-La-Tex children and their families - with health screenings, crafts, bounce houses and magic shows. Free admission. Bring your shot records! (Download the Immunization Protocols attachment for instructions on what to bring, what insurance plans are accepted and what vaccines will be available). Questions? contact Andi at 870-772-3771.


4th Annual Back To School Empowerment Bash! 10 a.m.-1 p.m. | The Healing Place. Free school supplies, bounce houses, and more! Community-wide Back to School Event healthy children event from 2-5PM by Phone Pros and Excel ER, and others with monster trucks, face painting and free photos by Amber Fenix. For more information, contact PhonePros at 903.949.6863.
2. Final Day of 29th Annual Juried Art Show. Saturday, Aug. 12. Final day of TRAHC's biggest art exhibit of the year. Free at the Regional Arts Center. Sat, Aug 12
&
Lands of the Caddo. Saturday, Aug. 12 | 12-2 p.m. While downtown, enjoy the Lands of the Caddo at TMS Discovery Place.

3. Texarkana Children's Charities Open Golf Tourney at TCC and NCC. August 14-19. Benefits Runnin' WJ Ranch. Watch the pros of tomorrow, enjoy a Pro-Am Party, 9 hole shootout and golf clinic,– a golfers dream! Help house these young up and comer golfers who'll soon be in the PGA ranks and the pros of the future–contact [email protected] or 903.748.9532.
(Editor's note: The Whitt family hosted young golfer Brian Henninger years ago for a similar Byron Nelson tourney at TCC; as a pro, Brian invited us to the Master's tourney where we watched him play his final tied round with eventual winner Ben Crenshaw. You never know!)
4. Texarkana College Sage: Open House for Seasoned Learners. Monday, Aug. 14 | 11 a.m.-1 p.m.
Also from Sage: Join them at 6 p.m. for an Armchair Traveler program about Israel - presented by Dawna Montanelli in the Old Town Saloon at 202 E. Broad Street. FREE and OPEN TO THE GENERAL PUBLIC. For questions about Sage, call 903-748-1235 or email [email protected] or [email protected].
5. Michael Martin Murphey on stage! Friday, Aug. 18 | Scottie's Grill. This iconic American singer-songwriter–and Linden native– is best known for his Western and country music, including "Wildfire." A multiple Grammy nominee, Murphey has six gold albums, including Cowboy Songs; Murphey is a passionate musical voice for the Western horseman, rancher, and cowboy.
6. Great Texarkana Duck Race. Saturday, Aug. 19 | 9-11 a.m. At Holiday Springs Water Park presented by CHRISTUS Friends of the Foundation. BUY YOUR DUCKS TODAY and be a big winner by supporting a great cause (technology for local cutting-edge cancer care) - and (maybe) walking away with the goods!)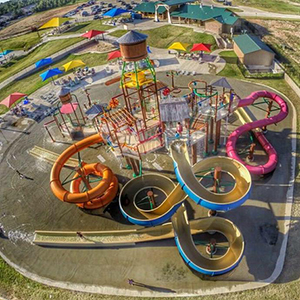 7. Holiday Springs Water Park. Don't wait until August 19 to enjoy Holiday Springs Water Park - summer days are dwindling! The Park will remain open daily through August 13, then for weekend fun through Labor Day.
8. Learn something new! Sign up to learn something new and keep developing your own potential. Texarkana USA offers great opportunities! Check them out...
(and don't forget to take the TMPO Bike and Trail survey!)
---
Totally T-Town Food Faves
Our final post of great recommendations from Today's Youth, Tomorrow's Leaders!

"My favorite place to eat is Fuji Kim's—I order the Philadelphia roll."
ANDREA RODRIGUEZ
Pleasant Grove High School


"I love the chicken sandwich from Subies Deli."
ALYSSA SMITH
Arkansas High School

"My favorite is the Big Jack Daddy Burger at Buffalo Wild Wings."
TREVARIE HODGE
Liberty-Eylau High School
Share this post: