T-Town Top 10: Week of Sept. 18-24, 2017
Want to have a list of 10 awesome things to do in Texarkana delivered right to your inbox every week? Sign up for the WeeklyLIFT today!
---
T-TOWN TOP TEN
Things to do in Texarkana September 18-24, 2017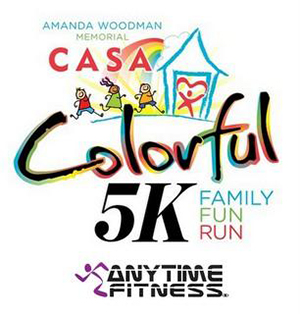 1. CASA's 5th Annual Colorful 5K and Family Fun Run. Saturday, Sept. 23, Trinity Baptist Church. In memory of Amanda Fussell Woodman for years of devotion to child abuse prevention, working tirelessly to promote the CASA for Children program, fundraising, recruiting and training volunteers along with her support for every aspect of the program. Benefits CASA for Children and the services they provide to more than 1000 abused and neglected children a year. NEW THIS YEAR - Kids run as your favorite SUPER HERO! Learn more.
2. 4th Annual Rummage Sale in support of United Way's funds for local non-profits. Drop off at Williams Memorial Methodist Church Youth Center on Friday, Sept. 22, 8 a.m.-3 p.m. Call 903.794.3105 for more info.
3. 6th Annual Texarkana Renaissance Fair at the Four States Fairgrounds. Sept. 23-24. Featuring everything from belly dancing and drumming, to pirate tunes and comedy. Merchants, live music, food, craft demonstrations and FUN!
4. Researching your WWI Ancestors: A Case Study. Saturday, Sept. 23, 11 a.m., Ahern House. Texarkana Museums System.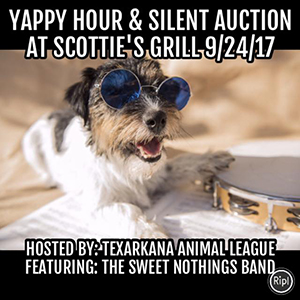 5. Yappy Hour at Scottie's Grill - benefiting the Texarkana Animal League. Sunday, Sept. 24, 4 p.m. Live Music and Silent Auction.
6. HAPPY BIG! BIRTHDAY! Help Texarkana College celebrate its 90th birthday at a community-wide celebration featuring a proclamation by Texarkana, Texas & Texarkana, Arkansas on Wed, Sept 20, at 10:30 AM at the Veterans Memorial on campus! Free lunch following ceremony.
7. Also at TC this week...
Enjoy "How Merrily We Live: Madrigals and More" featuring music from the supremely musical Richardson family with three generations participating. Thurs, Sept 21 at the Stilwell Theatre on the TC campus.
Sign up for Sage learning and social opportunities for ages 46+! Classes beginning this week are: Encore: Writing the Life You Have Lived; Readiness in Action; and Texarkana: Community Issues. Learn more about upcoming classes.
8. PLACE program from TAMU-T: "The Myths and Realities of Internet Deviance," presented by Dr. Godpower Okereke, Wednesday, Sept. 20, 1:30-2:45 p.m., University Center on the TAMU-T Campus.
Totally T-Town Food Faves
9. "My favorite dish is the Provence Salmon Salad from Pecan Point Brewery."
WILL HUDDLESTON
Partner, Magness Financial Group
10. "My favorite is the Trout Almondine from Verona Italian Restaurant."
TJ Davidson
Associate, Magness Financial Group
If you would like us to feature the Totally Texarkana food favorites of YOUR business staff, submit details to [email protected], (including name, title, business, photo, along with a favorite dish that can ONLY found in at one of our Texarkana restaurants.
---
Want to have a list of 10 awesome things to do in Texarkana delivered right to your inbox every week? Sign up for the WeeklyLIFT today!
Share this post: