Did You Know: Week of Oct. 24, 2016
Texarkana USA:
A thriving center for business, education and culture that attracts–and serves–us all.
Citizens committed to Working Smart for Excellence, Educational and Cultural Riches, Community Pride, Economic, Social and Personal Well-Being
---
Speaking of Cultural Riches...

DID YOU KNOW?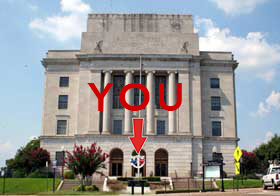 YOU are needed at the Downtown Post Office on TUESDAY, Oct 25 where the goal is to have the largest crowd present for a photo taken in two states. EVER! All citizens are invited!
It's all part of our community's celebration of having our downtown being officially designated as state-recognized Cultural Distirct—filled with WOW assets that are second to none for ANY community: WE celebrate the exquisite Perot Theatre and Regional Arts Center, the Ace of Clubs House, the Museum of Regional History, the Discovery Place, the Ahern House, the historic US Post Office, the Four States Auto Museum, Front Street Festival as well as downtown parks, library, and assets to come. Congrats to the Texarkana Arts & Historic District Alliance. Learn more.
Oct. 25, 10 a.m., Downtown Post Office
BE THERE! Bring everyone you know!
---
Want to have interesting tidbits about Texarkana delivered right to your inbox every week? Sign up for the WeeklyLIFT today!
Share this post: