T-Town Top 10: Week of May 1-7, 2017
Want to have a list of 10 awesome things to do in Texarkana delivered right to your inbox every week? Sign up for the WeeklyLIFT today!
---
A T-TOWN TOP TEN
Things to do in Texarkana
May 1-7, 2017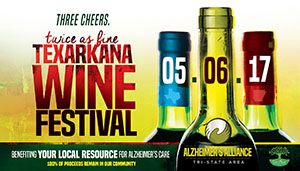 3rd Annual Twice As Fine Texarkana Wine Festival. Saturday, May 6 | From 10 a.m. Featuring wineries from across Texas, plus art, music and food! Family friendly and FREE! General admission to enjoy the shopping and eats. Wine Garden admission is $10. Benefiting the Alzheimer's Alliance Tri-State Area..

While you're at Spring Lake Park…

Walk/Run for Life (and Kids' Fun Run) at the Spring Lake Park Pavilion One. Saturday, May 6. Benefiting 1st Choice Pregnancy Resource Center. 903-792-5735 or

[email protected]

.


Disney's Little Mermaid. May 5-14, Fri-Sats at 7:30; Sundays at 2 p.m. A favorite musical for all ages! Presented by Texarkana Repertory Company in conjunction with Texarkana College in TC's Stilwell Theatre.

PLUS - Special opportunity UNDER the SEA, to meet Ariel and her friends! Saturday, May 6 | 2-3 p.m. A fun time with Ariel, cupcakes, crafts, and the chance to learn a dance from the show! Water Wands and Tridents available for sale during the event. Limited availability so get your tickets NOW.

OR Get your kids going…

Twin Cities Kids Triathlon. Saturday, May 6 | 3-6 p.m. CHRISTUS St. Michael Health & Fitness Center. stmichaelfitness.com for details or 903.277.2405



Hats and Horses: A Day At The Derby. Saturday, May 6 | 4-7 p.m. At Texarkana Country Club. Texarkana's premier Kentucky Derby watch party hosted by Eagle Impact. Enjoy Derby-themed food and music – while raising funds and awareness to benefit Eagle Impact for Texas A&M University-Texarkana.

Speaking of Horses:

Arkansas Paint Horse Show. Saturday-Sunday, May 6-7 | 8 a.m.–5. p.m. Four States Fair Entertainment Center


Riding the Rails: The Transient Nature of the 1930's. Saturday, May 6 | 1-3 p.m. Museum of Regional History. Excerpts and poems from 1930's America that portray the transients of the Great Depression who travelled the country looking for work. A glimpse into the lives of some of America's most misunderstood citizens.


Messiah, Part III. Sunday, May 7 | 5 p.m. Presented by the Texarkana Regional Chorale - FREE - at Williams Memorial United Methodist Church. Donations accepted.


For the kids:


Elephant & Piggie's We Are In a Play! Tuesday, May 2 | 9:30 a.m. & 12:30 p.m. Commissioned by the Kennedy Center based on the award-winning children's books by Mo Willems. Best friends Elephant Gerald and Piggie romp through this brand-new vaudevillian musical, you'll be doing the "Flippy Floppy Floory" dance all night long! Presented by TRAHC's Theatre for Young Audiences in the Perot Theatre.

Children's Mental Health Awareness Day. Wednesday, May 3 | 5-7 p.m. Spring Lake Park Splash Pad. Everyone is invited to this fun and kid-friendly outdoor event: Games, activities, treats, bounce houses, and prizes for participating children. To increase awareness and reduce the stigma of mental illness in children.


STILL TIME -


The Voice Viewing Party - Stephanie Rice. Monday, May 1 | 7-9 p.m. Scottie's Grill, 8400 W 7th St, Texarkana, Texas 75501. Redwater local Stephanie Rice has amazed America and the judges week after week. Her Voice, her story, and the emotion she puts into every performance has clearly earned Stephanie a spot in the finals. Come support, watch, and vote for this rising local talent at Scottie's Grill. See the show playing on the loud speakers Mondays and Tuesdays.


In Time for Cinco de Mayo (and Seis de Mayo!)


This Week's Totally T-Town Fave Foods
"Potato from Potato Patch—filled with pulled pork made by my husband!"
DEANNA O'MALLEY
LT Class of 2009
Neighborhoods USA Board Member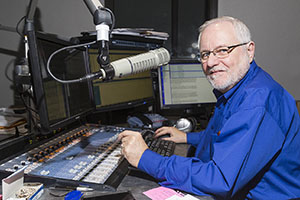 "T-Bone steak from Texas Road House!"
STEVE MITCHELL
Director, KTXK 91.5FM
Share this post: