Did You Know? The Northeast Texas Small Business Development Center was named 2017 SBDC of the Year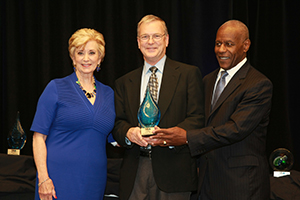 The North Texas SBDC Network recently presented the Northeast Texas Small Business Development Center (SBDC) with the 2017 SBDC of the Year Award. The SBDC of the Year honor is awarded to the North Texas SBDC Field Center based on stellar program performance through client successes and economic development contributing to job creation/retention and revenue growth on behalf of small business. Performance is evidenced through the SBDC's advising services and training assistance that directly contribute to successful milestones for small businesses.
During FY 2015-2016, Northeast Texas SBDC assisted clients in Bowie, Camp Cass, Franklin, Morris and Titus Counties with the following achievements:
$7 ½ million in commercial loans
124 new jobs created
22 new businesses started
The Northeast Texas SBDC is hosted by Northeast Texas Community College (NTCC) in Mount Pleasant, and Texarkana College (TC) in Texarkana, Texas. The Northeast Texas SBDC recognizes NTCC President, Dr. Brad Johnson, Associate Vice President for Workforce Development, Dr. Kevin Rose, and TC President, James Henry Russell for their leadership and longstanding support of the SBDC program. SBDC is a 501(c)3 non-profit organization providing research and business counseling services at no cost to the business. With nearly 1,000 locations across the country, the SBDC network helps entrepreneurs to thrive, compete and succeed.
Learn more at www.northeastTXsbdc.org.
SBDC Picture: People in the photo are from left to right, Linda McMahon, Administrator US Small Business Administration; Tim Wilson, Director Northeast Texas SBDC; Herb Austin, SBA District Director, Dallas/Ft. Worth office
Share this post: